ABOUT US
Mohar Landscape
The most beautiful season in India starts just after winter when flowers bloom and bring along with them a new hope of life. This blossoming of flowers is called "Mohar" in Marathi a native Indian language. By definition the flowering part of the plant that will form the fruit is called "Mohar". It brings with its happiness and joy and promises prosperity.
Similarly, we at "Mohar" Landscape believe in evolution of design. We unfold our skills and knowledge to bloom the project making it a unique venture, so that its fragrance will spread beyond all boundaries.
Who We Are
Mohar landscape started its journey in 2015. We create spaces that you just want to "be" in and makes you feel good. We are a complete solution provider with an innovative outlook, which gives each project a timeless value.
We enthusiastically seek out challenging projects in residential, commercial, hospitality, institutional and industrial sector.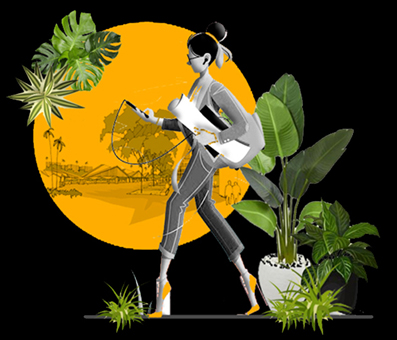 OUR Enthusiastic TEAM
Sneha Thakur, is a practicing Landscape Architect since 2013. She has completed B.Arch from B.K.P.S. College Of Architecture Pune in 2011 and M.Arch from BNCA College Of Architecture Pune in year 2013.
She has won many awards in academics and competitions. She has deep knowledge on executing projects of various scales. Have been worked in many firms as Senior landscape architect, it has made her approach towards design very balanced in terms of creativity, aesthetics and functionality.
Expertise in various software makes her very prompt and efficient when it comes to dealing with multiple tasks.
Ajay Takawale, is the co-founder of Mohar. He has been a landscape Designer since 2005. Armed with an experience of 15 years he is adept in handling the nuances of landscape architecture. He began his career at a renowned Landscape Architectural Firm in Pune and is still adding years to his experience.
Environment clearance is his forte especially after working on more than 120 projects till date. His experience lies in flawless execution of a proposed idea as he is an expert in horticulture and site coordination.